PRINCIPLES, RESPONSIBILITIES
and GUIDELINES
Adopted December 1994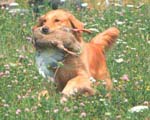 These PRINCIPLES represent fundamental values that are expected to govern the conduct of Club members within the Garden State Golden Retriever Club, Inc. and within the community as a whole.
The RESPONSIBILITIES reflect standards of behavior that are expected from Club members.
The GUIDELINES offer standards that may be applied in the appropriateness of future courses of action; nevertheless, particular situations often require judgments that may not be directly addressed here. Judgments about ethical behavior in such situations are expected to be made in a context of honesty and full disclosure, in the impartial opinion of professional peers, taking into account the worth and dignity of all persons concerned as well as their rights, identity and self-esteem.
I. GENERAL
A. All members will exhibit a high standard of sportsmanship, goodwill, integrity and friendship and will act solely in the best interest of the Club and the Golden Retriever breed.
B. No member of the GSGRC, its Board of Directors, delegates, or committee members, will use their position within the Club to further their own interests.
C. All members will comply with all Federal, State, local and AKC laws, ordinances, rules and regulations. Whenever the provisions of this document shall conflict with any governmental and/or AKC edict, the appropriate Federal, State, local and/or AKC edict shall govern, however, the remaining provisions of this document shall remain in full force and effect.
II. COMMUNITY RELATIONS
A. Members should ensure that their dogs are not a nuisance to their neighbors or the community in general and that they are properly controlled, inoculated, licensed and supervised at all times.
B.Members should try to do all they can to foster good relations among dogs, their owners and the community.
III. EDUCATION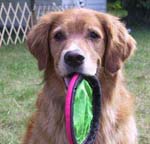 A.The Club encourages all members to become informed about all aspects of the Golden Retriever breed. Indeed, this is a fundamental principle of the Club. Discussion, even diversity of opinion, is encouraged as an integral part of the education process.
B. Members are encouraged to contribute and share their knowledge and practices with one another.
C. Members are expected to recognize the presence of a diversity of goals and fundamental differences of opinion among colleagues, but are expected to treat such diversities and differences with fairness and to treat each other with courtesy and respect.
IV. BREEDING and HEALTH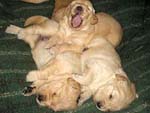 Breeding is an art as well as a science. Delineating the principles of an art is not always easy so some leeway must be left to the breeder's judgment. One must look at the sum total of the dog, not just to the medical facts. It is recognized that while there is no genetically perfect breed, one should attempt to reduce the problems recognized to exist in the Golden Retriever. To a majority of breeders the following are necessary components of a sound breeding program:
A. All breeding stock will be in good health, of sound temperament and should be free from known major hereditary defects at the time of breeding.
B. The sire and dam will be carefully and knowledgeably selected so that each litter will be appropriately planned with parents of quality, as described in the AKC Official Standard.
C. The hips, eyes and heart of all breeding stock should be evaluated by a qualified veterinarian. It is highly recommended that the appropriate clearances for hips, eyes and heart be obtained:
The hips radiographically by either a Board Certified Orthopedic Veterinarian and/or OFA;

The eyes by either a Board Certified Ophthalmologist and/or CERF;

The heart by a Board Certified Cardiologist and/or a sonogram or an echocardiogram performed by a qualified veterinarian.
D. Consideration should also be given to other defects or problems with a genetic component that sometimes may occur in the breed, including but not limited to: skin hypersensitivity, low thyroid activity, epilepsy and cancer.
E. Only mature dogs and bitches should be bred; preferably after 18 months of age.
F. Breeding stock and litters will be kept under sanitary conditions and health protection will be given through a program of inoculations, worming, veterinary care and proper nutrition.
G. Socialization of the litter will be given to encourage sound temperament.
V. SALE and REGISTRATION
A. The breeder will carefully screen prospective purchasers in order to place puppies into safe and healthy homes.
B. Members will not sell or consign puppies or dogs to pet shops, commercial brokers or raffles.
C. Members will not provide puppies or dogs for any promotions wherein the placement and care of the animal is not being strictly supervised.
D. Puppies should not leave the breeder before seven (7) weeks of age.
E. Puppies should be sold with full disclosure of the strengths and weaknesses of the breeding pair and the clearances obtained, as well as the condition of the puppy.
F. All puppies will be sold with written contracts specifying the terms of the sale, including any guarantees and restrictions, as well as indicating applicable responsibilities of the buyer. The contract will ensure that the breeder will be contacted whenever an owner can no longer keep a dog at any time in the dog's life and it will be the obligation of the breeder to assist in the placement or disposition of the dog.
G. It is recommended that the AKC Limited Registration be used when appropriate.
H. Spaying and neutering should be encouraged for those puppies which for any reason are not to be used for breeding.
I. In addition to the contract, the breeder will provide the purchaser with the following:
AKC registration papers;

A pedigree of three (3) or more generations;

A health certificate from a veterinarian;

An inoculation and worming record;

Written instructions on puppy care, feeding schedule and housebreaking methods;

Information about the care, raising and training of the Golden Retriever and their assurance that they will be available to answer future questions.
J. Breeders will keep accurate records of all their dogs, breedings, litters and pedigrees, as well as owners names, addresses and telephone numbers for each litter, in accordance with AKC rules and regulations.

Amendments to the Clubs Principles, Responsibilities and Guidelines may be proposed by the Board of Directors or by written petition addressed to the Recording Secretary signed by 20% of the membership in good standing. Amendments proposed by such petition shall be promptly considered by the Board of Directors and must be submitted to the members with recommendations of the Board by the Recording Secretary for vote within three (3) months of the date when the petition was received by the Recording Secretary.
The Clubs Principles, Responsibilities and Guidelines may be amended by a 2/3 vote of the members present and voting at any regular or special meeting called for the purpose, provided the proposed amendments have been included in the notice of the meeting and mailed to each member at least 14 days prior to the date of the meeting.